Welcome to the Martinselkonen Wilds Centre!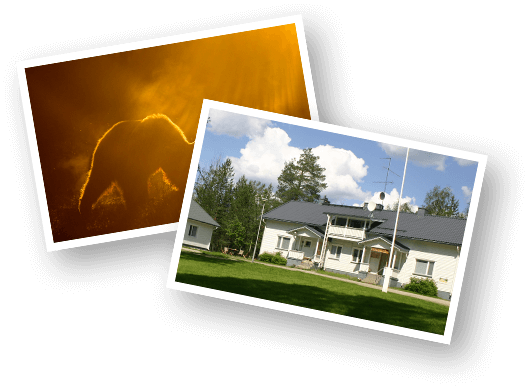 The Martinselkonen Wilds Centre is an ideal base for trekkers, for bear watchers and photographers, snowmobile riders and other nature explorers. The Martinselkonen area is nestled in the Kainuu wilderness at the eastern border of Finland and provides not only a wondrous diversity of nature but also genuine peace and quiet.
The Martinselkonen nature conservation area creates a perfect setting for nature adventures throughout the year. In summer, the local bear population provides unforgettable experiences for nature photographers and for anyone wanting to observe the king of the forest in its natural habitat. The bear watching happens from safe hides with expert guides. For bear photographers there is separate hides in multiple backgrounds. In the fall, you can enjoy the purity of the Nordic nature while picking berries, hunting, trekking or cycling. In the winter, snow is guaranteed, which creates wonderful opportunities for activities ranging from fat-biking to snowshoeing, and from ice fishing to cross-country skiing.
The Martinselkonen Wilds Centre provides high-quality accommodation for 29 people and a cabin for rent. Our guests are welcome to use both our traditional wood-burning sauna and our smoke sauna. We also offer catering services to advance order.
Our highly professional staff guarantees excellent service even to the most demanding of guests – whether travelling alone or in a large group. We have several years of experience in working in the wild and in organizing bear watching and photography safaris, which guarantees our visitors' safety and memorable encounters with Nordic wildlife.